Parent Advisory Board Town Hall
Child & Youth Services
Note: This event has already passed.
Sep 20 2023, 4:30 pm - 6 pm
Sep 20 2023, 4:30 pm - 6 pm
@ the Camp Zama Youth Cener
The evening will begin with the official P.A.B Town Hall from 4:30 p.m. - 5 p.m. where CYS leadership and board members will be present to provide information on current and upcoming programing, as well as answer questions from attendees. Following the meeting from 5 p.m. to 6 p.m., all families are welcome to participate in our end of summer family dodgeball competition hosted by Youth Sports and fitness!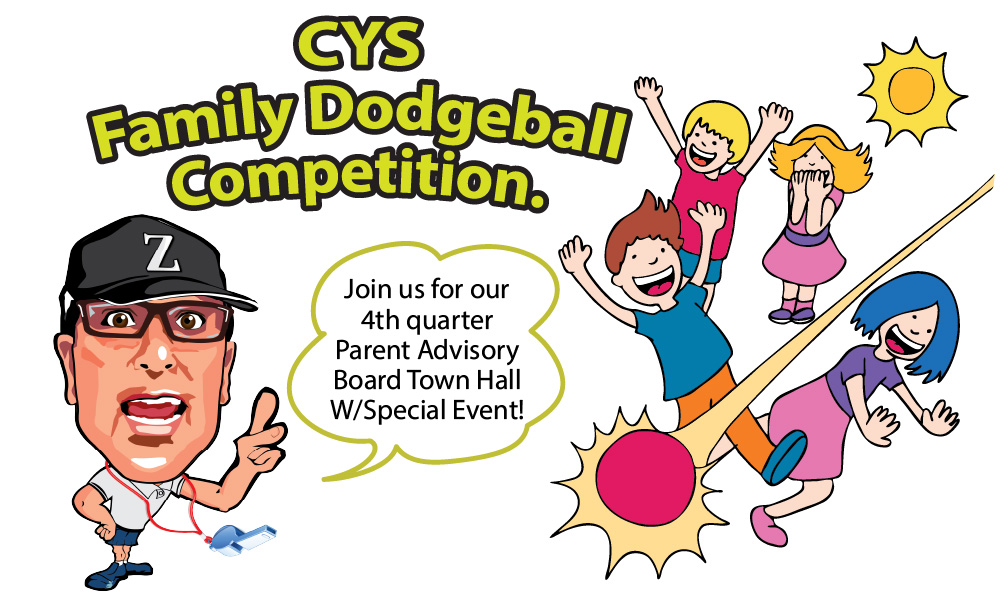 For Additional Information, please contact: Nicholas Andrews, CYS Outreach Services Director 263-3397 or 046-407-3397
Parent Central Services

Hours:

Monday

8:00am-1:00pm

Open for all Services

1:00pm-2:00pm

Closed for Lunch

2:00pm-5:00pm

Open for all Services

Tuesday

8:00am-1:00pm

Open for all Services

1:00pm-2:00pm

Closed for Lunch

2:00pm-5:00pm

Open for all Services

Wednesday

8:00am-1:00pm

Open for all Services

1:00pm-2:00pm

Closed for Lunch

2:00pm-5:00pm

Open for all Services

Thursday

8:00am-1:00pm

Open for all Services

1:00pm-2:00pm

Closed for Lunch

2:00pm-5:00pm

Open for all Services

Friday

8:00am-1:00pm

Open for all Services

1:00pm-2:00pm

Closed for Lunch

2:00pm-4:00pm

Open for all Services (Closing at 4 p.m.)